Recorded Webinar – With Handouts
Join my monthly Relax Focus Succeed newsletter!
Karl W. Palachuk
Author: Relax Focus Succeed: Balance Your Personal and Professional Lives and Be More Successful in Both – and many more books for business owners.
Learn about Relax Focus Succeed.
The Seven Stages of Wealth and the Economy
A Model for Small Business Owners
In this recorded webinar, I present my model for growing wealth in your small business. I describe the seven "stages" or states a small business can go through – and why most get stuck going back and forth between two of them.
A small percentage of businesses successfully make their way to the Seventh Stage. But everyone could make it there!
I will also cover the four primary states that an economy might be in. And, as long as we're at it, we'll talk about how these two realities overlap one another. Both the state of your business and the state of the economy are always in flux. So there's no one or two things you can do to "be successful" all the time. Success is literally a journey that never ends.
I have managed, built, bought, and sold a variety of businesses over the last twenty-five years. But none of that makes me an entrepreneur! Being an entrepreneur is NOT the same as owning or running a small business. I consider myself an entrepreneur because I have figured out the Seventh Stage – the stage beyond the daily grind, and beyond simply taking money to the bank.
You can make money without being an entrepreneur.
You can be successful without being an entrepreneur.
You can buy and sell businesses, and even retire without being an entrepreneur.
So what does it take to move to the final stage and enjoy life at the next level? Join me and find out!
Note: Download PDF includes a free white paper on the Seven Stages of Wealth, including a special exercise to help you focus your business so it's always heading in the right direction.
No selling.
---
Consider joining the Small Biz Thoughts Community
Content and Community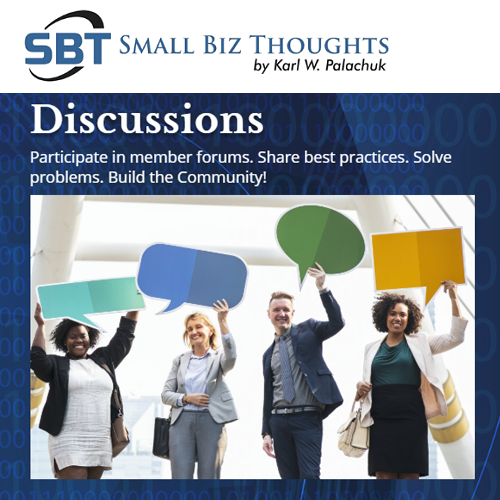 Forums: IT professionals helping IT professionals. Join the discusssion!
EBooks, white papers and more: From the most trusted source of information on Managed Services – Small Biz thoughts by Karl W. Palachuk
Audio, Video, Live webinars, recordings, etc.: You'll find gigabytes of information included FREE with your monthly subscription
---
For more information on Managed Services, check out these resources:
– My Blog: blog.smallbizthoughts.com
– All things at Small Biz Thoughts
– Books / audio programs / educational materials at SMB Books
– Search "Managed Services" on Amazon
– Join my newsletter here and keep up on weekly news in the industry